Tom Garlepp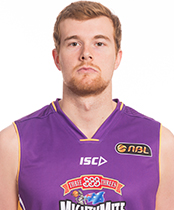 #14
DOB: 20-04-1986
POB: Perth, Australia
Tom Garlepp is one of the National Basketball League's most improved players and an emerging leader.
The 2013-14 NBL season proved to be a breakout year for Tom. He cemented his spot as the starting power forward for the MightyMite Sydney Kings, and completed his second season as a King by improving in every statistical category, averaging 8.8 points and 5.6 rebounds in 26 minutes per contest. Tom scored in double figures nine times, including a season high 21 against Adelaide on January 26.
Tom reached his 150th NBL career game milestone in a victory over Cairns on February 21.
He was awarded the 2013-14 MightyMite Sydney Kings Coaches' Award for his hard work and dramatic improvement over the course of the season.
After re-signing with the Kings for two years at the end of the 2013-14 season, Tom spent the first part of the offseason overseas on his honeymoon after marrying long time partner and former Sydney Uni Flame Renee Camino in May.
Upon his return to Australia, Tom has taken up a dual role as player and assistant coach for the Norths Bears in the New South Wales Waratah League.