Josh Duinker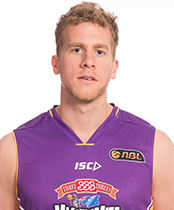 #8
DOB: 18-04-1989
POB: Australia
Big man Josh Duinker was signed by the Kings prior to the 2014/2015 National Basketball League season.
A product of the Hornsby association by way of St Pius X high school in Chatswood, the 25 year old Duinker stands 211cm (6'11") and weighs 104kg (230lb).
He has played in Europe for the past two years after spending four years at NCAA Division One school Richmond University in the United States, where he helped his team make the prestigious NCAA Tournament in 2010 and 2011.
Duinker, who holds dual Australian-Dutch citizenship, is also a current member of the Dutch national team, and he started for Dutch club Zorg and Zekerheid Leiden in the 2014 EuroChallenge tournament, averaging an impressive 15.3 points, 7.8 rebounds and 1.0 steals per game.
Josh began his professional career in 2012, playing for Caceres Basket in the second division of the powerful Spanish League, where he averaged 7.3 points and 5.1 rebounds in 35 appearances for the club.
An athletic big man who can shoot it from deep, Duinker's versatility will make him an important cog in the Kings' 2014/15 line-up.