Josh Childress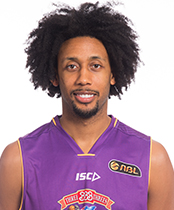 #7
DOB: 20-06-1983
POB: Harbor City, USA
Josh Childress joined the Kings prior to the 2014/2015 National Basketball League season, becoming what is widely considered as the highest profile signing in NBL history.
Josh was a McDonald's High School All American, and after a brilliant college career with Stanford University, where he won the Pac-10 Conference Player of the Year and was named an Associated Press First Team All American, he was drafted by the Atlanta Hawks with the sixth pick of the first round in the 2004 NBA draft – the highest a Stanford player has ever been drafted.
As a rookie, Josh was named to the NBA All-Rookie Second Team after producing 10.1 points and six rebounds per game while shooting 47% from the field and 82% from the free throw line. He spent four highly productive seasons with the Hawks, averaging double figure points in each of those seasons.
Childress then accepted a massive offer to play in the powerful Greek league – becoming the highest-profile player to leave the NBA at that point of his career – where he starred for Euroleague club Olympiacos Piraeus.
In 2010 he was named to the All-Euroleague Second Team and led the Greek league in scoring, averaging 15.3 points per game and helping his team win the Greek Cup title.
Upon his return to the NBA he played for the Phoenix Suns and Brooklyn Nets and spent time with the Washington Wizards, with his most recent stint coming with the New Orleans Pelicans in the 2013/2014 NBA season.
Josh is very active in the community, doing tremendous work through The Josh Childress Foundation, a not for profit organization dedicated to providing high school athletes the opportunity to attend university – either as a scholar or student-athlete. He is also a General Partner in IECP Ventures, a venture firm focused on digital media, technology, entertainment and global trends.