Jason Cadee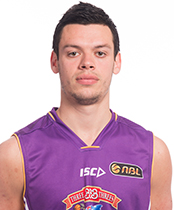 #5
DOB: 15-05-1991
POB: Sydney, Australia
Jason Cadee joined the Sydney Kings prior to the 2014/2015 National Basketball League season.
One of the brightest prospects in the sport, the Sydney-born son of Australian basketball legends Robbie and Debbie Cadee is coming off a season where he helped lead the Adelaide 36ers to the NBL Grand Final against the eventual champion Perth Wildcats.
In 2010 he was a member of the squad for the Australian junior men's team and played on the World Select Team at the Nike Hoops Summit.
After coming back from horrific injuries sustained in a car accident in July 2010, the 23 year old has improved in every one of his past three seasons and is seen by many good judges as a future Australian Boomer.
He played for the Super City Rangers in the 2014 New Zealand NBL season, and upon the conclusion of that league returned to Australia to play with the Bankstown Bruins in the second-tier Waratah championship.
In July 2014, Jason broke the Waratah single game scoring record with a stunning 54 points for his Bruins against the Central Coast Crusaders.
His leadership, deadly perimeter shot and outstanding vision are all prized attributes and his addition greatly strengthens the Sydney backcourt rotation.