Daniel Joyce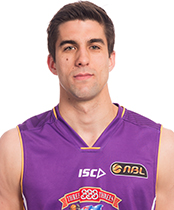 #6
DOB: 18-05-1987
POB: Australia
Daniel Joyce was signed by the Kings prior to the 2014/2015 National Basketball League season. Joyce is coming off a season with the Canberra Gunners in the SEABL where he averaged 12.3 points, 3.9 rebounds and 2.6 assists.
Daniel is an experienced NBL campaigner with 103 games under his belt. An Illawarra junior, he started his career with the Wollongong Hawks in 2006 and played one season there before moving to the Gold Coast Blaze, where he spent two seasons and in 2008/09 averaged a career-high 8.7 points per game.
After being out of the NBL for three years he was signed by the Sydney Kings as an injury replacement in the 2012/13 season and played nine games as the Kings made the playoffs for the first time since 2008. He has averaged 5.3 points and 2.0 assists per game in his NBL career.
Daniel's father Brendan was an NBL championship winning coach with the Wollongong Hawks and is currently the head coach of the Australian Opals women's national team.