Ben Madgen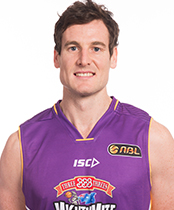 #1
DOB: 07-02-1985
POB: Adelaide, Australia
Ben Madgen is Captain of the Sydney Kings and has emerged as one of the preeminent Australian players in the National Basketball League.
He had another successful year for the MightyMite Sydney Kings during their 2013/14 campaign, averaging 15.2 points - including a season-high 31 twice - 3.3 rebounds and 2.4 assists in 31 minutes per game.
Originally from Adelaide, Ben left Australia to attend Augusta State University in 2006 where he was the all-time leading scorer in school and Peach Belt Conference history and earned All-America honours after leading his college to the Elite Eight and Final Four.
Such was his impact at Augusta State, the university took the unprecedented step of retiring his jersey in 2009 before Ben had even played his final college game.
He won the NBL Rookie of the Year Award in 2011 and had a breakout campaign in 2012/2013, leading the league in scoring. That season, he won the NBL Most Improved Award, was named to the All NBL First Team and finished second in voting for the competition's Most Valuable Player trophy. He also earned selection to the Australian Boomers national squad prior to the 2013/14 season, and most recently played for the Boomers in the four game Sino-Australia Challenge against China in 2014.
A two-time winner of the Sydney Kings Most Valuable Player award - most recently following the 2013/14 season - 'Madge' is an outstanding representative of the club, both on and off the court. He is extremely committed to his community work including bringing basketball to disadvantaged kids, and even has his own program - 'Madgen's Message of Hope' - which supports The Children's Hospital at Westmead and Sydney Children's Hospital Randwick.