Tim Hudson - Head of Basketball Operations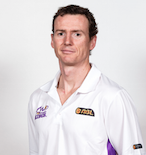 Tim Hudson was named to the newly created position of Sydney Kings Head of Basketball Operations in July 2014.
He spent the previous four seasons as one of the team's assistant coaches, and in 2012 was the Interim Head Coach for one game against the Perth Wildcats.
He was regarded as a deadly perimeter shooter in his playing days, and he made 47 appearances in the National Basketball League for the Kings, Hunter Pirates and West Sydney Razorbacks, earning a championship ring with Sydney as a part of the team that won its historic first title in 2003.
Since entering the coaching ranks, Tim has garnered a ton of respect for his basketball knowledge and ability to motivate players at all levels.
He is currently the Head Coach of the New South Wales U20 team and the Central Coast Crusaders in the second-tier Waratah Championship competition. Tim was also the Head Coach of noted high school basketball powerhouses Waverley College from 2004-2007 and Barker College from 2007 to 2012.
Tim's background in the sport and the high regard in which he is held make him an ideal choice to head up the Kings' Basketball Operations Team as he works closely with Head Coach Damian Cotter in all aspects of the day to day running of Sydney's NBL program.
Maris Lidums - Head Strength & Conditioning Coach
Maris specialises in strength and conditioning for high performance athletes. He is currently in his third season as Head Strength & Conditioning Coach for the Sydney Kings.
He has over 10 years experience working in high performance sport as a strength and conditioning coach, during which he has worked with Olympic and Commonwealth champions and elite level athletes.
Maris is also a lecturer for the Australian Strength and Conditioning Association and is currently studying a Masters of Sports Coaching at the University of Sydney.

Maris has qualifications in Exercise and Sports Science (BAppSc) and is a Level 3 Strength and Conditioning coach (Australian Strength & Conditioning Association) as well as an accredited coach in Weightlifting (Australian Weightlifting Federation), Sprinting/Athletics (Athletics Australia) and Anthropometrics.
Outside of the Sydney Kings, Maris offers his Strength and Conditioning services through his business, Elite Performance Coaching.
Diana Glazer - Massage Therapist
Diana's special interest is in Sports Massage and within this field she has extensive experience with basketball. Diana has been with the Sydney Kings since 2001 and for 12 years she was the massage therapist for the Australian Men's Basketball Team.
She has assisted the Boomers through several campaigns including the Beijing and London Olympics and the World Championships in Japan and Turkey. She was also a part of the Headquarters Medical Team at the Delhi Commonwealth Games.
Diana is also a Consultant Massage Therapist to the New South Wales Institute of Sport.
Outside of sports she has qualifications in Applied Science (Radiography), Graduate Diploma in Science of Medicine (Pain Management) and a Ba. Teaching (Adult Vocational Education).
Diana works at her own practice in Bondi and can be contacted on 0418 889 002 or d.glazer@bigpond.com
Vanessa Ade - Massage Therapist
Vanessa is a qualified Remedial Massage Therapist and has been working with the Sydney Kings since 2007. Since this time, she has also worked in conjunction with Diana and the Australian Men's Basketball Team at various national training and selection camps.
Vanessa also works with the Greater Western Sydney Giants AFL team and has been with them since 2010 as a massage therapist and sports trainer. She has now progressed into the Head of Massage Therapy role working extensively with the Athlete Performance Unit and Coaching Staff.
Since graduating in 2008 as a Remedial Massage Therapist, Vanessa has also completed a Bachelor of Exercise Science (Australian Catholic University) a Masters of Clinical Exercise Physiology (Australian Catholic University) and is currently undertaking a Doctor of Physiotherapy (Macquarie University). She has also competed additional courses such as Strength and Conditioning Level 1, Sports Trainer Level 2 and an Advanced Taping/Strapping Course.
Vanessa was a competitive elite Rhythmic Gymnast and has represented Australia at numerous international competitions, and therefore has extensive experience in elite sports and the rigors of training and competition.
Vanessa can be contacted on 0478 018 393 or vanessa_ade@hotmail.com