HARLEQUINS CHEERLEADING AUDITIONS 2014/2015 SEASON
SYDNEY KINGS HARLEQUINS CHEERLEADING AUDITIONS 2014/2015 NBL SEASON

The Harlequins are a well-known component of the world famous Sydney Kings Basketball team. The Harlequins are known for their strong dance skills, stage presence, passion for their team and healthy, fit physiques.
They do more than dance at games; they carry out promotional work, make public appearances, volunteer for charities and mentor/serve as role models for kids.
Here is your chance to be one of the leading ladies of the Sydney Kings for the 2014/2015 NBL season.

To be one of the Harlequins:
Ladies must be at least 18 years of age
Recommended to have a minimum of four years dance training
All applicants must fill in the registration form and email with a head shot and full length body shot to auditions@sassymodels.com.au by Thursday 19th June, 2014
Audition will be held Saturday 21st June 2014 – 9:30am registration with 10am commencement of audition
All applicants must be available for the 2014/2015 NBL season – Sydney Kings Home Games. Go to www.sydneykings.com for the game schedule
Ladies attending the audition must wear dance shorts and crop top with appropriate dance footwear
Successful applicants will need to be available Monday nights for rehearsals which is located in Alexandria
Once applications are received a full confirmation email will be forward to you confirming your place at the audition.
Sydney Kings Harlequins announce tryouts for 2013/2014 squad
Sydney Kings - Matt McQuade
Think you've got what it takes to become a part of one of Australia's most iconic cheerleading squads?
The Sydney Kings Harlequins have been performing for many thousands of fans ever since the very first Sydney Kings game in the National Basketball League at the State Sports Centre on 12 February 1988. The tradition will continue for the 2013/2014 season, and the team is looking for some fresh faces to join their line-up!
The Harlequins will be conducting auditions for the 2013/2014 squad on Saturday 22 June 2013, where they will choose nine dancers for the upcoming season. As an important part of the Sydney Kings since it all began more than a quarter of a century ago, the team wants to ensure they get the right girls into the troupe.
Keira Howarth, director of Sassy Models, the company who have managed the Harlequins since 2005 - and a long-time Harlequin herself - talked about what she and the squad are looking for.
"We are looking for exceptionally fit, beautiful, talented and professionally trained dancers with strong personalities and passion for performing and supporting the Sydney Kings," Keira said.
"We are excited for the upcoming season for a few reasons. Number one of course is our love of the sport of basketball and the Sydney Kings. We are also thrilled to be an important part of the tremendous game night atmosphere at the Crown Kingdome, and always welcome the opportunity to entertain our great fans."
"It's also very important to the Harlequins to represent the club and participate in a number of community and charity events."
The five person selection panel who will select the 2013/2014 Sydney Kings Harlequins will consist of Keira Howarth, Kings General Manager Rod Harys, Sydney Kings ambassador Marni Ewing and two other judges who will shortly be named.
All applicants are required to email through a recent head shot and full length photo along with their performance and dance training CV to auditions@sassymodels.com.au. Once the applicant email is received, a confirmation email will be sent confirming the applicant's position at the audition along with all the details including time, location, how to arrive, presentation on the day and what to bring.
The official advertisement for the Harlequins audition is at http://www.starnow.com.au/listings/ListingDetail.aspx?l_id=463148, and regular updates will be posted on the Sydney Kings Harlequins Facebook page http://www.facebook.com/#!/pages/Sydney-Kings-Harlequins/183832091640548.
If you feel you've got what it takes to be a Sydney Kings Harlequin, send in your application today!
Sydney Kings. My City. My Team.
While 'New Team. Same Dream.' is something closely aligned with the MightyMite Sydney Kings for the 2014/15 season, the slogan also applies to another aspect of the Kings' family – the Harlequins.
Much like the Kings' revamped roster, the Harlequins have a new look squad with less than half of the girls returning from last year.
Keira Howarth, Director of Sassy Entertainment, the parent company that oversees the Harlequins, said that while it is unusual to see such a change in the squad, many of the girls had been involved for a long period of time and decided to move on to other things.
"One girl was very much into her Latin dancing and wanted to focus on that, another runs her own ballet school and wasn't able to find enough time for both roles," said Howarth.
"Like any other profession, the girls that left found it was time to move on to different ambitions."
With a gaping hole left in their squad, Howarth began the extensive process of recruitment as she set out on the task of building a new team.
"We start off by putting out a call to all dancers," said Howarth.
"The girls apply with information on a variety of things including their school of dance, performance history and why they want to be apart of the team."
"Their community and charity work is also something that is very important to us."
The audition process is renowned for being tough, so the girls that made it through the first stages were among the elite performers.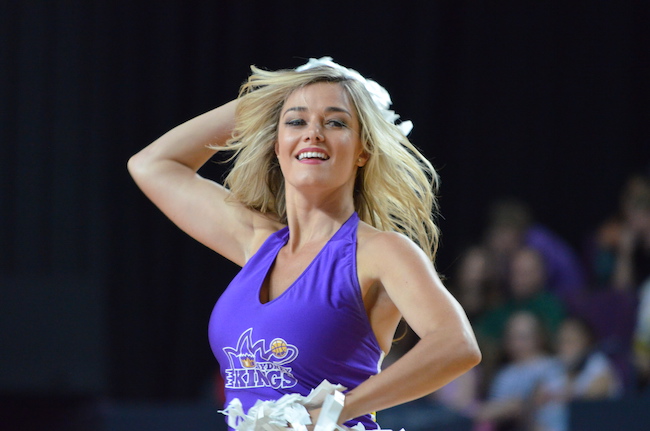 However, the girls needed more than raw talent to get them over the line, with a passion for both performance dance and the Sydney Kings a major recruiting point.
A panel of judges sat down and discussed who they wanted to bring back after the first audition, with the chosen dancers invited to a separate audition where they were given a choreographed piece.
From there, the top 25 performers were put through a more demanding routine before the group was culled down to 15.
The girls were brought back again - this time for an interview process where the panel of judges got to know the dancers on a personal level before they made their final cuts.
Once the squad of 16 was selected the new girls came in for an intense, dance-oriented boot camp where they learnt a base choreography then began work on their routines leading in to the season.
A lot of the new additions to the squad this season are full time dance students, making the transition into the physically demanding lifestyle of a Harlequin a little easier.
"Like any sport, fitness is a crucial component of being a dancer, " said Howarth.
"The girls all lead extremely active lifestyles which is a huge benefit coming in."
Similar to the Kings and their lengthy preseason, the Harlequins have been working together for the past two months in preparation for October 11.
As a part of their own preseason, the Harlequins try to keep their non-dance workouts as interesting as possible.
"We like to mix it up," said Howarth.
"The girls take turns in coming up with different workouts involving weight based workouts, interval training, boxing and pump class."
Howarth said that there is more involved in preparing for the season than people think.
"It's more than just dancing to entertain the crowd, and I feel like our role can be sometimes overlooked," she said.
"We put a lot of hard work in towards creating an atmosphere that is crucial in preparing the crowd to get behind the Kings."
"It's an exciting time for us. We have a great new squad and we can't wait for game one!" Howarth said.