Kings celebrate NAIDOC Week
Tuesday, July 07, 2015, 03:01:42 PM
The Sydney Kings are proud to announce the club will be actively involved in the 2015 NAIDOC Week celebrations from July 5-12.
NAIDOC (National Aboriginal and Islander Day Observance Committee) Week is an annual nationwide celebration of the history, culture and achievements of Aboriginal and Torres Strait Islander peoples.
The NAIDOC program initially evolved from the first ever political groups, the Australian Aboriginal Progressive Associations and the Australian Aborigines League, that were seeking rights for Aboriginal and Australians back in the 1920s, into a national committee that organise the weeklong celebration.
This year's theme for NAIDOC is We all stand on Sacred Ground: Learn, Respect and Celebrate.
On Monday, the Sydney Kings held a basketball workshop at NAIDOC in the City, Sydney's largest showcase of Aboriginal and Torres Strait Islander cultures held in Hyde Park.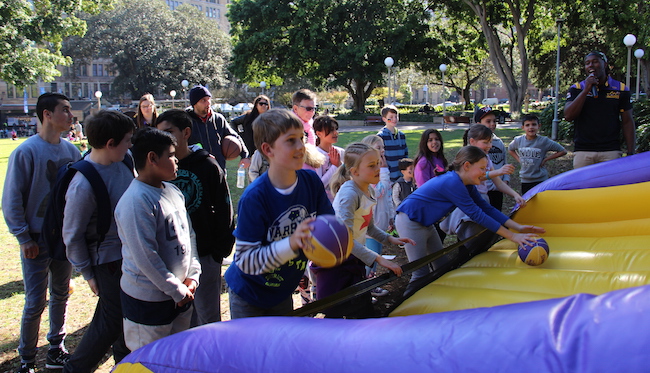 In addition to the Kings presence, the event featured a range of family-friendly activities and performances including live music, traditional dance, food, art and wildlife exhibits.
While Monday's NAIDOC in the City event was a huge success, the Kings have several additional workshops throughout the week.
The next will be on Friday 10th July, where the Kings will reconnect with the club's first ever head coach – Claude 'Uncle Claude' Williams.
Uncle Claude will be running a workshop with current Sydney Kings Head Coach Damian Cotter from 12-2pm at the National Centre of Indigenous Excellence in Redfern. For more information, click HERE.
On Sunday, the Kings will close out a week of celebration with two separate events. Sydney Kings charity partner Youth Off The Streets are running a 3 on 3 competition out of Bankstown Art Centre, with newly crowned King Steve Markovic set to make an appearance at 11am.
The second and final event will be a workshop in partnership with NASCA (National Aboriginal Sporting Chance Academy) and featuring Tom Garlepp and Damian Cotter at the Glebe NAIDOC Family Day. This event will be held at Glebe Public School from 12-1:30pm.